Quilting Fusion began in 2015 when I purchased a sewing machine a pieced a quilt top for one of my best friend's daughter's first birthday. The first quilt was a mixture of traditional piecing and applique and I free motion quilted it on my domestic machine. It was a labor of love and still brings a smile to my face when I see it and feel how it is soft and broken-in from laundering.
I was hooked! Soon after I finished my first quilt I signed up for a Judy Neimeyer paper piecing class and loved the structure and creativity in foundation paper piecing. I continued to piece quilt tops, mostly paper piecing with some traditional piecing and some embroidery and applique.
In 2020, I had a backlog of quilt tops that needed to be sent to longarm quilter, and Quilting Fusion was finalized. I purchased a Gammill Statler longarm machine and began quilting my own quilt tops.
Quilting Fusion is the primarily a longarm quilting service that specializes in quilting paper-pieced quilts as well as modern quilts. The primary focus is fusing the layers together and mixing traditional techniques with modern aesthetics. This could result in unique thread color, unique quilting designs, all the while maintaining a focus on quality craftsmanship.
– Alan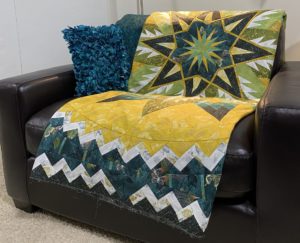 longarm quilting services
Our primary focus is longarm quilting services. Every quilt begins with a consultation to discover your design choices. We gravitate towards a modern aesthetic and services range from simple edge to edge to full custom quilting.
custom quilting
Our custom quilting services range from piecing a quilt top to your specifications to custom longarm quilting.
training
We are available for paper piecing instruction and will customize the content for your needs.